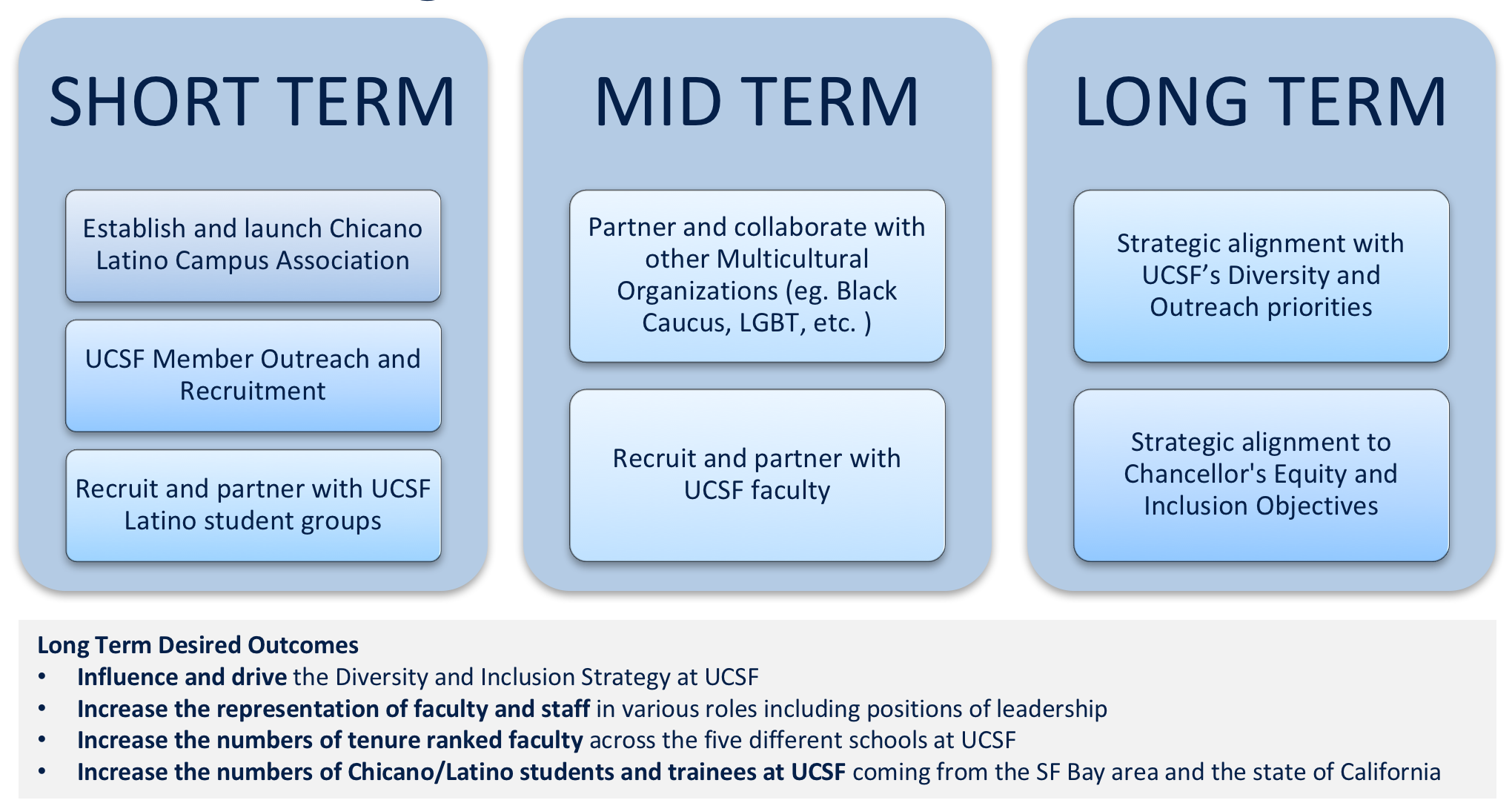 2018-2019 Goals and Priorities
CLCA hopes to create a staff award recognizing the contributions to the efforts of inclusion to groups and individuals in the UCSF community.  
In addition to our planned events, we hope to develop an analytical report on website traffic, as well as a post-event survey, that will help gather input from across campus and also inform future actions for Leadership.
Based on requests for activities on different campuses, we also hope to have at least one event at Mission Bay and one at ZSFG, and have included Livestream fees in our event budgets to include those who otherwise would not be able to attend our talks.
Fall 2018 activities will continue to focus on community building with student and staff groups.
Progress & Updates (as of December 2018)
In late November 2018 several CLCA members attend the first UC Chicanx/Latinx Leadership Summit, a conference dedicated to exploring pathways, obstacles and challenges to cultivating leadership for California's largest ethnic minority population across the higher education system. The CLCA has also started a dialogue with UCSF Human Resources with the aim of working together to advance diversity, equity and inclusion and to improve engagement of Latinx employees at UCSF.
Spring 2019 activities will focus on developing partnerships with Latinx groups on campus, securing a speaker in honor of International Woman's Day, community building events, and professional development opportunities for staff.
Strategic Alignment to Chancellor's Equity and Inclusion Objectives

UCSF 2015 Chancellor Priorities
Continuous Learning
Equity and Inclusion
Precision Medicine
Transformative Partnerships
Equity and Inclusion Priority Statement
UCSF will champion diversity, equity and inclusion as core to our mission and will nurture and grow a culture in which everyone from all backgrounds is welcomed, supported, respected and valued.

Equity and Inclusion Objectives
Become known nationally as a destination for the brightest and most creative individuals with a diversity of backgrounds, experiences and perspectives.
Build upon and enrich our diverse culture, focusing on addressing current weaknesses and deficiencies, with the same investment, innovation and rigor that we approach other efforts at UCSF.
Enhance the personal, curricular and professional development and organizational strategies needed to support and sustain a diverse and inclusive culture, striving to provide equal opportunity at all levels.
Establish metrics for UCSF's culture of equity and inclusion and measure, evaluate and report on outcomes on an annual basis to ensure accountability and transparency.
Foster an ongoing dialogue between our campus and the Bay Area community about issues of equity, inclusion, disparities and social justice.
Source: Chancellor Introduces 4 Priorities for UCSF in 2015 State of the University, October 6, 2015